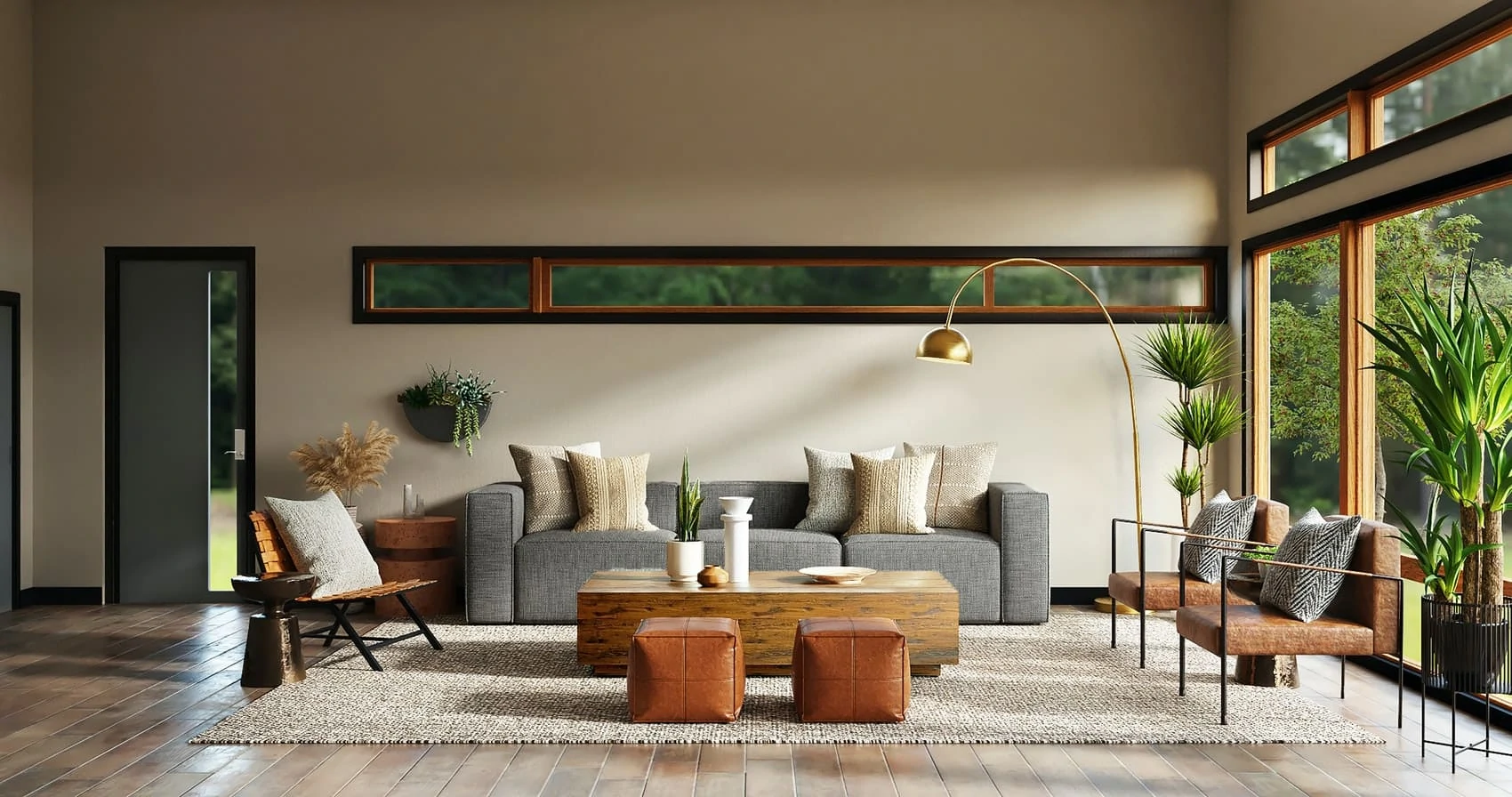 Feb 15, 2022
Category: Selling
Interior Design Styles and Trends 2022
We modify our houses most of the time to reflect our own preferences and tastes. It's not a bad idea to get ideas from current design trends, especially in this economy. Prepare to update every room in your house with these top trends that will soon be widespread in 2022.
Interior design is becoming increasingly sophisticated and appealing. Curved designs, natural-inspired interiors, more prominent home offices, and enormous light fixtures are all on the rise. Isn't it fantastic?
Image Source: Unsplash
Here's what interior design experts predict for 2022.
Biophilic Design
AAfter spending so much of our time inside during the pandemic era, it's becoming critical to incorporate outdoor experiences into the house. Biophilic interior design is the path to integrating people with nature. It'll be big this year in home furnishings.
Natural design features such as cross-ventilation and natural lighting are emphasized in biophilic architecture. It also encourages the development of productive spaces, which we all want when working from home.
The goal of this initiative will be to improve the quality of life in residential settings. Ventilation, proper natural light, plants, and a visual connection with nature will all be used to achieve this objective.
Image Source: Unsplash
Vibrant Kitchen
Because most people spent the majority of their time indoors in 2021, there is a natural desire to make the kitchen area seem and feel more personal. The use of bright contrasting colors will be returning this year as the first kitchen pattern. Aside from vibrant colors, matte and glossy finishes will be used in the kitchen.
Large windows or skylights above the kitchen are also possible. The objective is to provide more natural light in order to make the space appear more vibrant.
In line with bringing more of the outdoors in, the use of Natural elements, such as wood, are expected to become more popular in order to extend the inside. Wood is recognized for its ability to blend with other interior design components to provide a blank canvas. This may be utilized to construct a work of art out of your kitchen.
Surprise! In 2021, open kitchen designs will be less popular. The Covid-19 epidemic has increased the demand for distinct areas.
Multifunctional Spaces
People have lately understood that they can live with less room. This does not imply that they must move out of their current residences. They may become more inventive and use their vacant rooms for a variety of purposes. The living room, for example, might be transformed into an office.
Home Office Designs
In the last year, there has been a spike in the number of people wanting to build their own workstation from scratch. Home offices will be more intentional in 2022. This might range from a dedicated room that has all you need for business to a foldable desk tucked away in your living room. The goal is to create an office environment that suits
People will be more innovative in coming up with work-from-home solutions. Walk-in closets will become makeshift offices. Homeowners are also likely to add space-saving functions and smart shelves to their open-plan kitchens, which will create pleasant working from home spaces.
Image Source: Unsplash
Bedrooms with built-in closets, in particular, will be converted to home offices for a more permanent work-from-home option.
Interior Door Designs
The door is an important part of interior design. It defines the design character of a home. Going by the changes that have taken place in the past, we have amazing door design trends coming up in 2022.
Invisibility is one of the trends that is likely to take off. Invisibility is achieved by blending in with the wall using invisible doors. It produces an uninterrupted color and pattern effect. An invisible door draws attention to the room's interior design. This design works well in a bathroom because it hides a toilet door.
20Warm natural wood will be more popular on interior doors in the future, according to a leading company. Wood can provide warmth, as well as a sense of safety and comfort.
Doors that are constructed of solid hardwood will be outward facing. Many individuals consider them to be harsh. They want doors to have more rounded forms to make rooms appear safer and less formal. As a result, doors are certain to take on curvier forms.
More modern door hardware is permeating the market. Get to learn about the best door hardware on the market here.
Rounded Furniture Edges
Softer edges in furniture and décor are appealing and give a romantic atmosphere to the area. We anticipate pieces with sloping clean lines and curved silhouettes, as this trend's name implies. In 2022, we don't expect to see any sharp angles.
Image Source: Unsplash
The reemergence of these sculptural shapes is expected to create a balance between modern interior design and feminine energies within a space. The return of these sculptural forms is expected to provide a harmony between contemporary interior design and feminine energies in a room. We anticipate reimagined modern chairs and round-edged tables. These, as well as other comparable décor, are anticipated to give a touch of class to people's homes this year.
Conclusion
For far too long, we have worked from home. It's past due that we accepted the fact that our homes are the focal points of our businesses. As a result, we must make them feel at ease and more unique.
Here are the interior design trends that you can anticipate in 2022 and beyond:
Biophilic interior design for greener living.
Vibrant kitchens with customized features.
Multifunctional spaces to make the most of your home.
Home office setups that are more permanent to adjust to the remote era.
More rounded furniture and decorative edges.